Medieval Collection
These vintage books are generally older; published from 1800 to 1930. They have aged in such a manner through exposure to the elements and time to make them appear as though they belong in a medieval castle or sorcerer's den. Their look is unique and this group of books has been used on the set of several movies and television series. These antique books may be in Danish, German or French languages.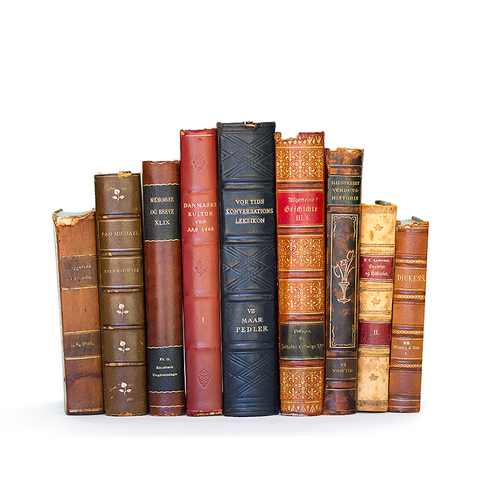 Less Than Perfect
The antique Less than Perfect books do not quite meet our usual standards. These books have bits and pieces of the spine missing, maybe a small tear. However, none of these books are falling apart. When placed together they look beautiful and it is only on closer inspection that it is noticeable that these books have been lovingly used over many years, and as such have developed that worn patina look that some find very desirable. These vintage books may come in Danish, French or German languages.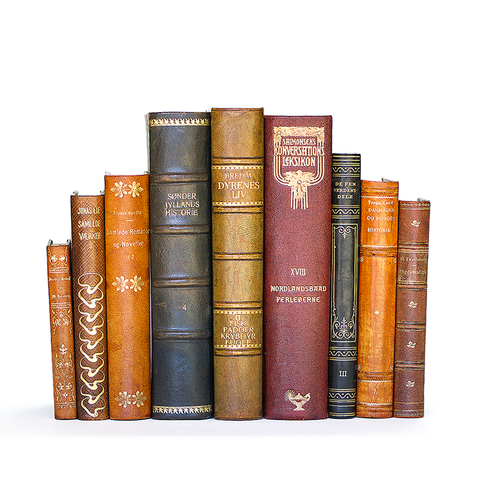 Designer Mix
Designer Mix is an older antique book, manufactured between 1800 and 1940's, and is a bit smaller than its counterpart in the Jewel Tones. They are exclusively in the Danish Language. Designer Mix comes in all the blonde tones such as honey, wheat, and fawn. These vintage books come in a variety of muted standard colors such as blue, green, and red. Because of the books age, the color is softer and more delicate. A Designer Mix book also has more details such as raised spines and gilding. They will very often have beautiful illustrations inside.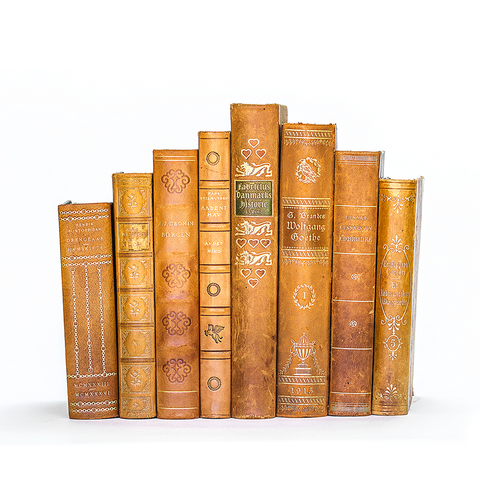 Zen Collection
The vintage Zen Collection, due to prolonged exposure to light, developed a very delicate and soft look. These books range from a light tan shade to a slightly darker tan and will add calmness to any decor. That is why we call them our Zen Collection. The antique books in this collection are manufactured between the late 1800's all the way until the 1960's. They are exclusively in the Danish Language.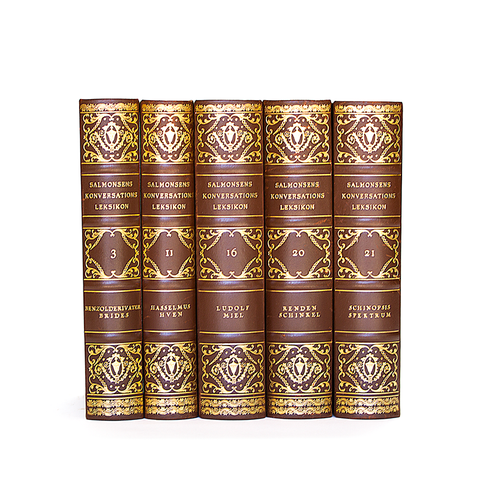 Handpicked Collection
These antique books are handpicked for their beauty and craftsmanship. They are highly detailed with gilt (gold) with beautiful images such as flowers, animals, people, cherubs and intricate patterns, embossed on wonderful leather, the workmanship is exquisite and rarely seen in today's mass-produced books. Our vintage Hand Picked books are truly a small work of art. They will grace any home with their beauty for years to come. While some may be from the early 1800's, others may be from as late as the 1950's. They are exclusively in the Danish language and are available in limited numbers.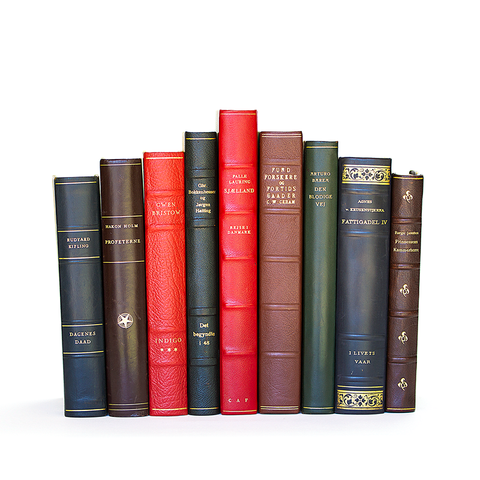 Jewel Tone
The antique Jewel Tone books come in many colors and in a wide variety of size. They are exclusively in the Danish language. It is a more recent book, manufactured between 1900 and 1970, and can be used to fill large amounts of shelf space. With their minimal detailing and smooth leather, these books function well in both contemporary and modern décor. We carry these vintage books in red, brown, blue, green and black tones.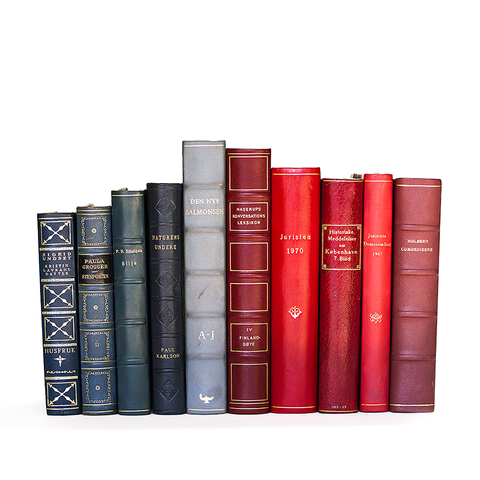 Unusual Colors
The Unusual Colors are rare and unique books that will make a very eye-catching focal point. With their bright and bold colors, these antique books look wonderful in both contemporary and modern décor. They come in a variety of colors. These vintage books are exclusively in the Danish language and come in limited numbers.
Showing 1 - 7 of 7 results